Email Still King In Spite Of Social Media
---
You might some how still be confused about the importance of an application that was invented as far back as 1998. Yes, that was when the internet as we know it today was just an infant - to paraphrase. It was called the E-mail. Fast forward 2019 and it is even more relevant now than ever. Over 60% of emails sent are opened on a mobile device (tablet or smart-phone). If an email is not purposely designed to be device agnostic - responsive, the message is impossible to read let alone interact with. Most tools focus on getting the message into the in-box. That though, is only part of the solution.

The email has to be easy to read, good looking and possesses click-able parts that should reference pages on your website. The trash bin is patiently waiting for messages that do not rendered properly as intended. Another well known fact is that images will not show up (automatically) for about 60% of recipients' email clients. Emails that rely heavily on images in their design interface will not get their messages across.

The question then is how do you design unique emails and newsletters that always display their messages as intended? The ones that are intuitive and inviting to read will always increase engagement, and ultimately the main objective of deliver-ability.

E-mail The Trusted Social Media:
No Data Breach
With just about everyone having an email address, including built-in features for personal and group conversation, it is the largest social platform. The nifty forward button makes both personal and group sharing a cinch. Attachment of a variety of file types accommodated
Controllable and very lucrative
It's easier to reach an audience using email than with the current social media services. The later is fragmented with data abuse and manipulation notwithstanding
Patient yet actionable
It's personal, not invasive, yet hard to ignore. It sits comfortably in the in-box until the intended reader takes action and reads or (re)moves the message. It allows you to decide whether you want a "Push" or a a "Pull" service. In other words, you are in control unlike some megalomaniac social media platforms. Push - let you know if new message has arrive. Pull - you go and check if there is a new message at leisure.
The most popular mobile activity
Mobile opens have grown over 180% over the last 3 years. About 65% of email opens happen on the mobile device first. Most people read email on the phone or tablet immediately when they wake up. On the road ditto. Thus, the importance of designing a branded responsive email becomes rather an urgent imperative.
These days over 50% of emails are first opened on a mobile device. Technology and design that improves the mobile email experience offers incredible benefits. Plus, of the top ten most used email clients, several now support background images, border radius, shadows and a number of typographic features. It's time to start designing emails with Progressive Enhancement and deliver a better experience to recipients with supporting email clients!.
Why You Should Consider Our Approach
We understand the difficulties involved in running a business whatever the market sector. Thus, the importance of having a simple yet powerful functionality on your
Website Admin Section
where you can intuitively just select the message you want customers and prospective ones to read and grasp about services or products you offer is rather crucial whatever the means -
Newsletters
or
Emails
.
We have designed an interface (in a
form
formate) that allows you to just select from pre-written texts (messages - or write and amend as you see fit) the message you want to pass on to both existing and prospective customers respectively. You simply enter the recipient email address, select a message from the available options, enter your name and then click the send button (as shown below). It could not be simpler. Behind the scene, we have created all the functionality with regards to sending an email but more importantly, we have also created the responsive branded interface that is consistent with your website design interface.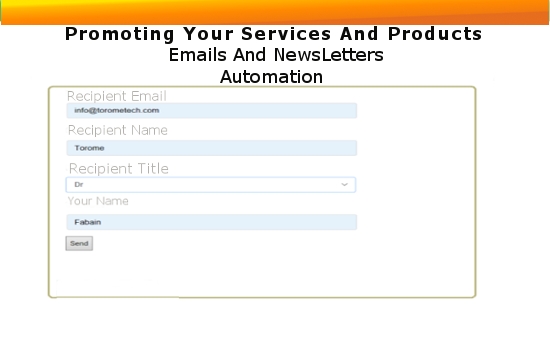 The important thing to note here is that, your message when opened with any email client application using either a desktop, tablet or smart-phone will rendered as a responsive HTML5 web-page. Ensuring all multimedia elements (images,audio,videos)and hyper-links are rendered same as they would on a web-page. Your website branding is ingeniously incorporated into the interface. The graphics and text within the responsive interface can be changed at will with just the click of the mouse . And all these come for free when your site is designed by us - awesome! No subscription to third parties software - everything is done
in-house
on your website.
The sample graphic image on the left is a typical example of a responsive branded email design. The interface and colour scheme have been purposely designed to be consistent with its main web-site and this is as detailed as fonts implementation. It will render exactly as depicted on a desktop email client application irrespective of the operating system. If the email is opened on a tablet or smart-phone the result is the same as a desktop - consistency maintained. This in effect,
is responsive branded email design
. I am sure you can see the difference with an ordinary text base email - far more engaging, intuitive and professional in outlook.
Being abreast with technology is a very tasking procedure especially if you are a small enterprise. We can take the load off or make it more bearable - making sure all the tools with regards to your site for updating dynamic content, branding and bespoke marketing responsive HTML5 emails are at your finger tips. Adding new functionalities as you grow is the default.
---
Click Here